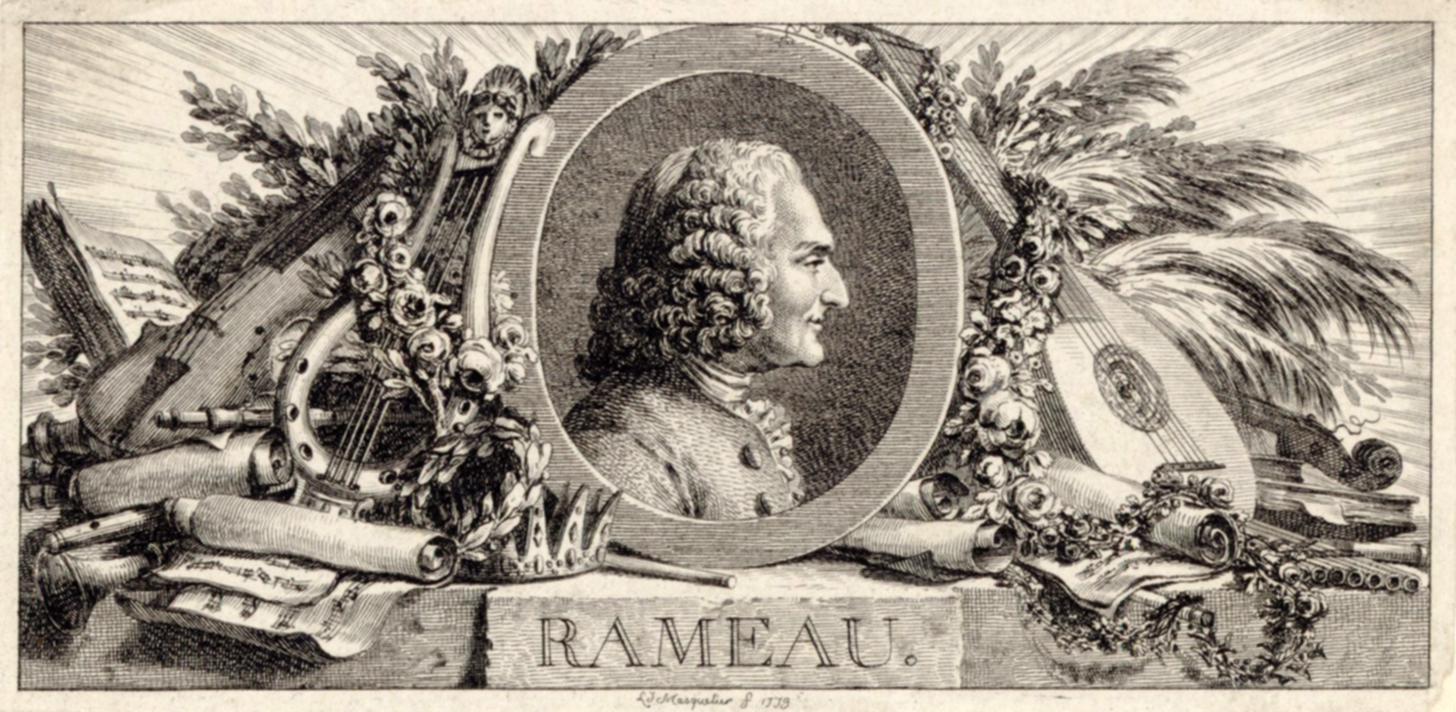 Gravure L.J. Masquelier

---

Jean Philippe Rameau was born in September 25, 1683 in Dijon, two years before J.S. Bach and also before Scarlatti and Handel, he'd live longer than all three. He died in Paris, September 12, 1764.

He was an insatiable worker and a very prolific composer. He authored may theoretical works and treatises of great importance.

Only very succinct information is known about his life. He was a discreet and lonesome artist. The first half of his life was relatively obscure and it is after his fifties that his creative genius was well known.

After the premiere of his

Hippolyte et Aricie

, in 1733 at the Académie Royale de Musique, lyrical tragedies, operas and ballets will follow at an amazing pace, often many in a year.

Even though labeled by his contemporaries, even up to today, a "mind-oriented", "too much intellectual" and "dry" composer, he was indeed a composer with an excruciating creativity and imagination.

After his dead, he rapidly sunk into oblivion until the nineteenth century when Saint-Saens and Charles Malherbe embarked into a full publication of his works. This giant endeavor has been interrupted by the first world war.

A great admirer of Rameau, Claude Debussy did write: ".. if the composer of the Indes Galantes was less forgotten, the French musical art would have less asked the way to go to some who were too interested to get her lost."

The harpsichord works by Rameau are not as extensive as the ones of Couperin. A total of some sixty pages composed over a period of forty years.

Nevertheless, this corpus is grandiose by its quality and brilliance and remains a summit of the French music history.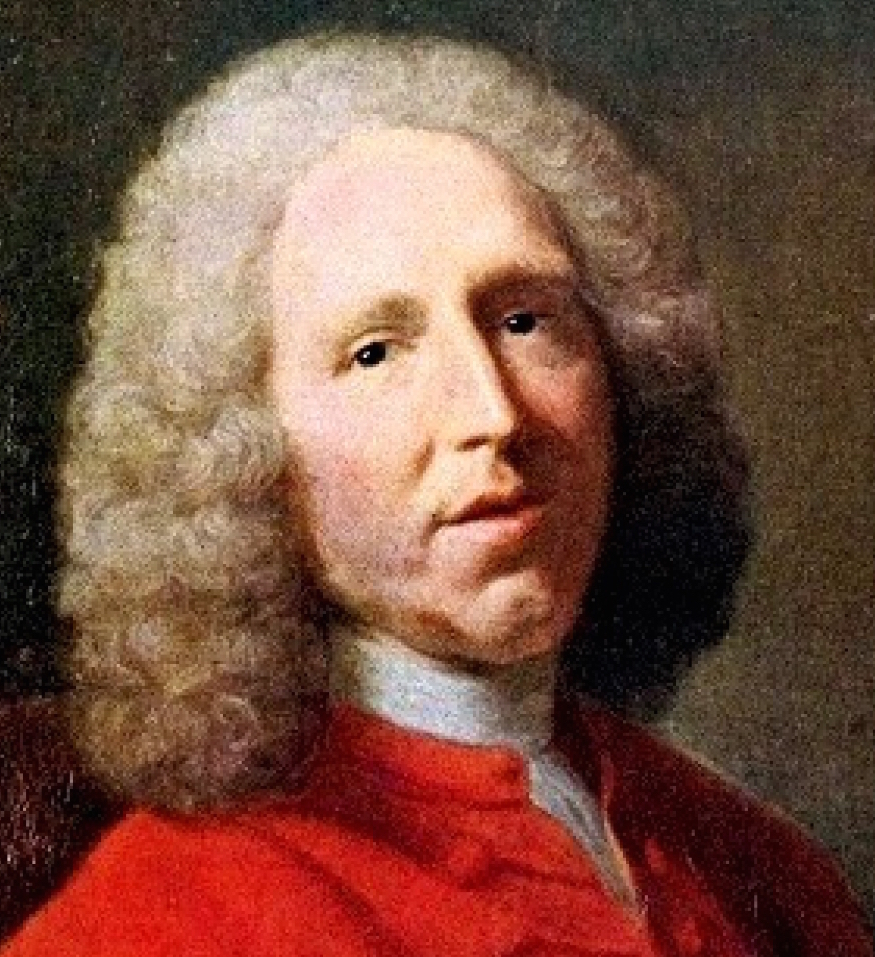 It includes three collection of pieces for the harpsichord published in 1706, 1724 and towards 1728; five pieces extracted from "Pièces de Clavecin" published in 1741 that Rameau, himself did arrange for the keyboard and one isolated piece "La Dauphine" composed in 1747, on the wedding of the "Dauphin", father of the future Louis XVI.

Therefore, the harpsichord pieces by Rameau are mostly from his youth, specially when compared to his lyrical output which covers the period from 1733 to 1760.

Rameau was younger than François Couperin but his keyboard music was composed earlier than the elder composer's. The first collection of pieces by Rameau was published in 1706, seven years before the "Premier Livre de Pièces de Clavecin" by Couperin, published in 1713.

Even though Rameau and Couperin are two giant names of the French harpsichord music, their styles are very much apart. Couperin is mainly the subtle poet who works on the fields of lyricism and irony with an equal dexterity. Rameau, on the other side, revives the classical spirit, elaborating with the same profound insight, the rigor and the power, the austerity and the maestria.

The Premier Livre de Pieces de Clavecin (First Book of Pieces for the Harpsichord) was published in Paris in 1706. It was on sale at the composer's house and from the title page we learn that Rameau was then organist at the Jésuites of the Saint-Jacques and at the Péres de la Mercy.

This volume includes an explanation page about the ornaments used, seven signs are detailed on how they should be performed. A very useful addition which lighten us about the common ornamentation procedures of the time.

Ten pieces are included and they follow the French Suite traditional scheme. A work of the young composer, then 23, which, nevertheless, shows many important and audacious innovations.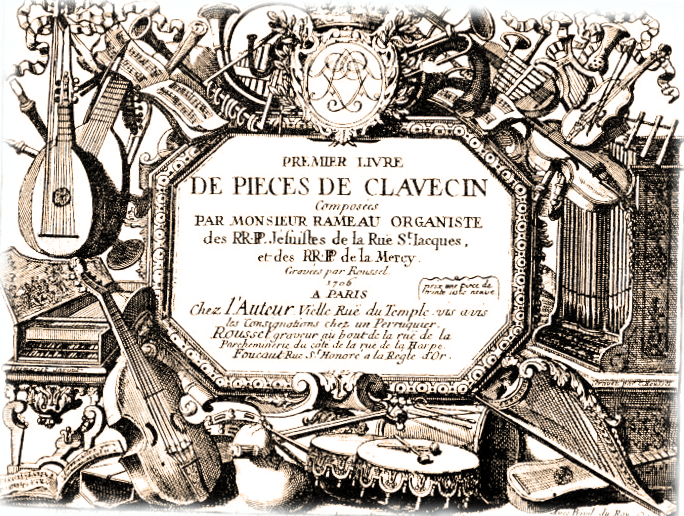 This suite is made of a Prélude; two Allemandes; a Courante; Gigue; two Sarabandes; a Venitienne; a Gavotte and a Menuet.

The prelude in made of two parts, first an un-measured introduction followed by a fast section in 12/8 time. This is the only un-measured (without barlines) type of écriture Rameau used. It follows the tradition on the French un-barred prelude, as there are quite a few of them in Couperin's works, but unlike those, Rameau's not written with whole notes only but displays a variety of rhythms. The harmonic progressions already reveal the great theoretician Rameau will soon be.

Deuxième Recueil de Pièces de Clavecin was first published at Hochereau et Boivin in 1724 it has been reprinted in 1731 and 1736 with the title "Pièces de clavecin avec une table pour les agrémens [sic]" (i.e. "agréements", ornaments given here in keeping with Rameau's original spelling): Pieces for the Harpsichord with a table for the ornaments.

Those latter publications include, therefore a table for the ornamentations and a short Menuet en Rondeau, with fingerings, added for instructional purposes. Furthermore, in the first edition of 1724 was included an educational article containing instructions on how the music was to be played. It was titled: De la méchanique des doigts sur le clavessin [sic]. This writing is very judicious and should be investigated by all harpsichord performers.

The pieces in this set are grouped by key signatures and do not constitute one single Suite. Pieces are mostly in Rondeau form and are in various keys, mostly E and D. They also have descriptive titles as with Couperin's works.

A number of those pieces were to be used later in some of the composer's stage works. Such as Musette in Rondeau and L'Entretien des Muses in Fetes d'Hébé; Les Tendres Plaintes in Zoroastre.

They are amazingly evocative pieces with incredibly audacious instrumental settings, virtuosity requirements as well as harmonic innovations.

Nouvelle Suites de pièces de Clavecin, the third collection, was published in Paris towards 1728. In the Preface written by the composer, again, very useful information is given with the title: "Remarques sur les pièces de ce livre, et sur les différents genres de musique" (Notes on the pieces in this book and the various kinds of music).

For instance: "... those [pieces] are more towards speed than slowness, except for the Allemande, Sarabande, the 'simple' (i.e. theme) of the Gavotte, the Triolets and the L'Enharmonique. However, keep in mind that it is better to make them slower than faster than required."

This set, even though less homogeneous than the preceding ones is more ambitious. It represents the summit of the keyboard style of Rameau and it has been compared with the six Partitas by J.S. Bach composed around the same time.

Individual pieces are grouped by keys, seven in A and nine are in G.

C. M. Girdlestone, in his monumental research book on Rameau, affirms that the composer uses the harpsichord as if it was an instrument with sustained sound. This is the reason why those pieces sound so well on a piano.

Cinq pièces pour clavecin seul éxtraites des pièces de clavecin en concerts (i.e. with orchestra) was published in Paris in 1741, Rameau did select five of them and arranged them for a solo harpsichord, he altered vastly only two of them, La Livri and L'Indiscrète.

The series opens with La Livri: indicated "graciously", in two beats. It has been composed to the memory of the Count of Livri, a sponsor of Rameau who died in 1741. It has been re-used in the opera Zoroastre. Followed by L'Agaçante: "rondement", in three; La Timide, first Rondeau in A minor and second Rondeau in A major both in two and closes with the L'Indiscrète, again a rondeau in B-flat major in two.

La Dauphine (1747) is the only piece for which we have a manuscript kept in the Bibliothéque Nationale. It was composed for the wedding of the "Dauphin", the son of Louis the Fifteenth and Marie-Josèphe of Saxe.
If you enjoy this music,
buying a copy will help support artist's
independent publishing activities.

Listen on

youtube

:


"Audio CD Trailer Videos"
: Large parts from the audio CD
and stills from the studio recording sessions
Jean Philippe Rameau Complete Keyboard Pieces